Requiem - suggestions by and for Ed Holroyd (Dr. Edmond W. Holroyd, III) for some time in the future. This file will remain "under construction" until that time.

As the remaining time in my earthly life is much less than my time from birth, I look ahead to being with Jesus forever, according to his promises. Once I leave this earthly life behind there will be some religious ceremony to commemorate my life and death. To make it easier for someone to design such a ceremony, I have assembled some likely pieces and explained their relevance. (Ed narrates.)

You may notice the name of this file: Requiem. That is the name for a Catholic Church Mass for commemorating the life of the faithful when they have died, referring to this religious ceremony.

[Youtube versions are in brackets after the verse lists. Such links serve as examples of the music and need not be played in the actual ceremony. They show what the music should be like. These traditional hymns typically use some words that are seldom part of contemporary English language. I have tried to explain their meanings. There are also some links to images of hymnal pages to see the musical scores.]

Prelude: use Yesu Joy of Man's Desiring by J.S. Bach - music only, though words may be possible. Yesu is Jesus, who should be the focus of our lives.

[https://www.youtube.com/watch?v=GLPbmITTYYE] audio, though other sources are possible

Eventually I should assemble a series of old photos to show during the Prelude. During its playing, we can show photos of birth, childhood (Boston, Limestone, Spencerport), youth, scouts, family tree (138 years), finding Gail, children, etc.

The following hymn is like a prayer. Though it starts with the end of a day, it finishes with the end of earthly life and the continuation into the glorious future. It asks God to stay with us throughout life. (Ed narrates.) Abide, meaning stay, tends to be an old, seldom used, word.

Abide with Me hymnal page hymnal page

1. Abide with me, fast falls the eventide.
The darkness deepens; Lord, with me abide.
When other helpers fail and comforts flee,
Help of the helpless, oh, abide with me.

2. I need thy presence every passing hour;
What but thy grace can foil the tempter's power?
Who like thyself my guide and stay can be?
Through cloud and sunshine, oh, abide with me.

3. Swift to its close ebbs out life's little day;
Earth's joys grow dim, its glories pass away;
Change and decay in all around I see;
O thou who changest not, abide with me.

4. I fear no foe, with thee at hand to bless;
Ills have no weight, and tears no bitterness.
Where is death's sting? Where, grave, thy victory?
I triumph still, if thou abide with me!

5. Hold thou thy cross before my closing eyes,
Shine through the gloom, and point me to the skies;
Heaven's morning breaks, and earth's vain shadows flee;
In life, in death, O Lord, abide with me.

[https://www.youtube.com/watch?v=deJDkU6qiGE] audio version but verses 2 and 3 are switched in order.

This next hymn is not very common and is omitted from many modern hymnals, but its message has been important in my life. The first application is against nominal Christianity. It also helped me in high school to develop a resistance to peer pressure. The later application is for the creation/evolution issue, following my conversion to the young-earth world view. It is a reminder that being politically correct is not necessarily good. (Ed narrates.)

There are a few old words and abbreviations. Twixt means between. tis is shortened it is. Ere means before. Till is until. Thy means your. Uncouth means out of favor, strange, awkward, uncultured. Abreast means in line with. Standeth is the old form of stands.

Once to Every Man and Nation hymnal page

1. Once to every man and nation Comes the moment to decide,
In the strife of truth with falsehood, For the good or evil side;
Some great cause, God's new Messiah, Offering each the bloom or blight,
And the choice goes by forever Twixt that darkness and that light.

2. Then to side with truth is noble, When we share her wretched crust,
Ere her cause bring fame and profit, And tis prosperous to be just;
Then it is the brave man chooses, While the coward stands aside,
Till the multitude make virtue Of the faith they had denied.

3. By the light of burning martyrs, Christ thy bleeding feet we track,
Toiling up new Calvaries ever With the Cross that turns not back.
New occasions teach new duties; Time makes ancient good uncouth;
They must upward still and onward who would keep abreast of truth.

4. Though the cause of evil prosper, Yet tis truth alone is strong;
Though her portion be the scaffold And upon the throne be wrong,
Yet that scaffold sways the future, And, behind the dim unknown,
Standeth God within the shadow, Keeping watch above his own.

[https://www.youtube.com/watch?v=gh8lwG4UaY8] for an audio/video version from an Indian congregation.

My favorite verses, from Matthew 6:33 and Luke, combined into: Seek first the kingdom of God and his righteousness and all these other things will be given to you as well. That has been my guide through life from the teenage years onwards, and it has worked very well in my life. So this song by Karen Lafferty has become a theme song. (Ed narrates.)

Seek Ye First hymnal page

Seek ye first the Kingdom of God
And His righteousness
And all these things shall be added unto you
Allelu Alleluia

Man shall not live by bread alone
But by every word
That proceeds from the mouth of God
Allelu Alleluia

Ask and it shall be given unto you
Seek and ye shall find
Knock and the door shall be opened unto you
Allelu Alleluia

[https://www.youtube.com/watch?v=hFEtdYGF-Os] for an audio version by Maranatha

Letting God be our guide throughout life is best for us. In both times of uncertainty and of confidence, these thoughts are an excellent reminder. God will lead us all the way. (Ed narrates.)

There are lots of old style words here. Replace all eth endings with a simple s. tis is a shortened It is. Fraught can use filled as a substitution. Mid means among. Eden's bowers bloom refers to excellent times. Repine can be complain. Thy means your. Jordan was the river that the Israelites passed through to get to their promised land. In this context it refers to earthly death on the way to heaven.

He Leadeth Me: Oh, Blessed Thought! hymnal page

1. He leadeth me: oh, blessed thought!
Oh, words with heavenly comfort fraught!
Whatever I do, wherever I be,
Still tis God's hand that leadeth me.

(Chorus, repeated after each verse):
He leadeth me, he leadeth me,
By his own hand he leadeth me.
His faithful follower I would be,
For by his hand he leadeth me.

2. Sometimes mid scenes of deepest gloom,
Sometimes where Eden's bowers bloom,
By waters calm, over troubled sea,
Still tis God's hand that leadeth me.

[Chorus]

3. Lord, I would clasp thy hand in mine,
Nor ever murmur nor repine;
Content, whatever lot I see,
Since tis my God that leadeth me.

[Chorus]

4. And when my task on earth is done,
When by thy grace the victory's won,
Even death's cold wave I will not flee,
Since God through Jordan leadeth me.

[Chorus]

for audio/video versions:
[https://www.youtube.com/watch?v=gjTi3F2kMWo] (Marie Barlow Martin) an attractive arrangement with a few altered words
[https://www.youtube.com/watch?v=AXb9F3bNvgw] (Twila Paris)

Coming from a Lutheran background, this hymn by Martin Luther is important. The meaning is that even though Satan has greater strength for evil than we can resist, Jesus will be the victor and destroy Satan in the end. We may loose everything, even our lives, but God wins and we are safe on his side. (Ed narrates.)

This is the traditional translation from the German, so some words may need explaining. Bulwark refers to the strong outer walls of a fortress. The ancient foe is Satan, the Devil, also the prince of darkness. Doth is does. Woe is evil. Dost is Do you. Sabaoth is a Hebrew word for the huge armies of angels of God. Hath is has. Lo means look. Abideth means stay with us. Sideth means is beside us. Kindred means relatives.

A Mighty Fortress Is Our God hymnal page

1. A mighty fortress is our God, A bulwark never failing;
Our helper he amid the flood Of mortal ills prevailing:
For still our ancient foe Doth seek to work us woe;
His craft and power are great, And, armed with cruel hate,
On earth is not his equal.

2. Did we in our own strength confide Our striving would be losing;
Were not the right Man on our side, The Man of God's own choosing.
Dost ask who that may be? Christ Jesus, it is he;
Lord Sabaoth his Name, From age to age the same,
And he must win the battle.

3. And though this world, with devils filled, Should threaten to undo us;
We will not fear, for God hath willed His truth to triumph through us;
The prince of darkness grim, We tremble not for him;
His rage we can endure, For lo! His doom is sure,
One little word shall fell him.

4. That word above all earthly powers, No thanks to them, abideth;
The Spirit and the gifts are ours Through him who with us sideth;
Let goods and kindred go, This mortal life also;
The body they may kill: God's truth abideth still,
His kingdom is forever.

[https://www.youtube.com/watch?v=8XUYZoguhEQ] for audio in traditional words

We remember the past and look to the future. For those who follow Jesus the ultimate future is glorious. We have been preceded in the faith by millions who are now in heaven, cheering us on. For such times as these, pay attention to the meanings of all of the verses. Many hymnals leave out some of the verses to shorten the hymn duration. (Ed narrates.) Alleluia! means Praise God!

For All the Saints Who From Their Labors Rest hymnal page hymnal page

1. For all the saints who from their labors rest,
All who by faith before the world confessed,
Your name, O Jesus, be forever blest.
Alleluia! Alleluia!

2. You were their rock, their fortress, and their might;
You, Lord, their captain in the well-fought fight;
You, in the darkness drear, their one true light.
Alleluia! Alleluia!

3. Oh may your soldiers, faithful, true, and bold,
Fight as the saints who nobly fought of old
And win with them the victor's crown of gold.
Alleluia! Alleluia!

4. Oh, blessed communion, fellowship divine,
We feebly struggle, they in glory shine;
Yet all are one within your great design.
Alleluia! Alleluia!

5. And when the strife is fierce, the warfare long,
Steals on the ear the distant triumph song,
And hearts are brave again and arms are strong.
Alleluia! Alleluia!

6. The golden evening brightens in the west;
Soon, soon to faithful warriors comes their rest;
Sweet is the calm of paradise the blest.
Alleluia! Alleluia!

7. But then there breaks a yet more glorious day:
The saints triumphant rise in bright array;
The king of glory passes on his way.
Alleluia! Alleluia!

8. From earth's wide bounds, from ocean's farthest coast,
Through gates of pearl streams in the countless host,
Singing to Father, Son, and Holy Ghost:
Alleluia! Alleluia!

[https://www.youtube.com/watch?v=1OaBgaMcOvM] audio, omits verses 3 and 5, with some word differences

My hope is that by becoming a follower of Jesus, each of you will join that victorious parade in heaven. (Ed narrates.)

Gail and I have already selected a cemetery and monument. In the Golden Cemetery, Colorado, the site is in the northwestern part of the cemetery, officially Block 264, Lot 1, Graves 3 and 4, Section City. Geographically (as on Google Earth or Google Maps) it is at N 39 d 43' 48.0", W 105 d 11' 49.3". It is located on Calvary lane.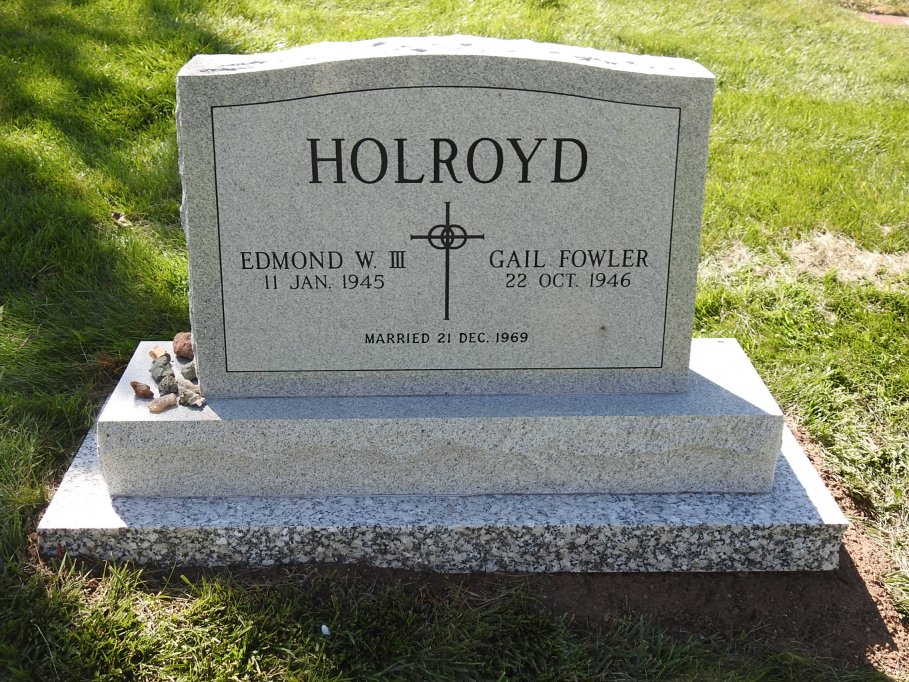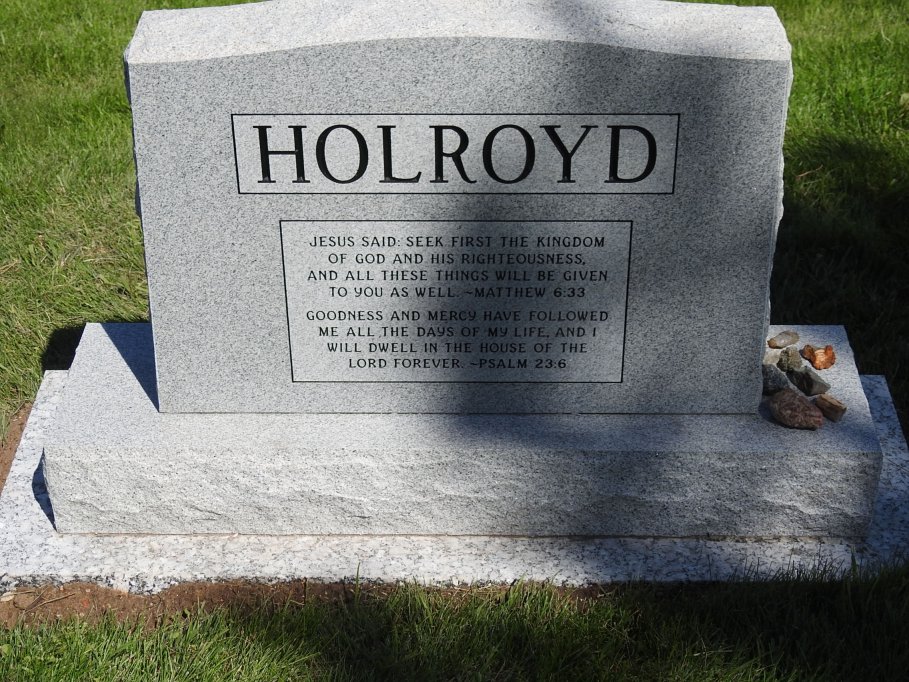 The colored stones are something that we saw on Jewish graves in east Jerusalem, Kidron Valley. They last longer than flowers. More stones may be added in the future. Similarly, there are stones on the Jewish grave to the north of ours. Some of the stones are from our world travels. Others are associated with our geology interests. They are also appropriate for the town hosting Colorado School of Mines, where Ed studied geology.